Paia 2720
Early kit synthesizer, based on the Paia 2700 which was released in the early 1970:ies. The main diffrence is the keyboard -
while the 2700 had a DIY "shirt button" keybed the 2720 uses a real 3 octave keybed (Pratt-Reed). Mine is in need of
service, one key has a faulty contact and a few might need new bushings. I bought this unit in late 2019 for a fair
amount of money, but it is not a common synth in Sweden (or europe), and the overall condition is good.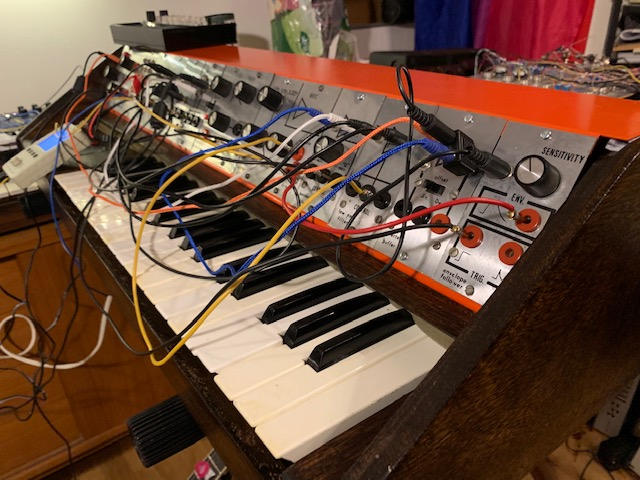 Since this is a synth designed to be cheap it has it's flaws, and it might be tempting for someone to try and iron out
everything. I am however sticking to making it functional according to the original specifications. Character is everything.
I have other synths for other sounds, but they can't sound like the Paia.
I am however considering building a small "expander box" for fun. Another Hz/V VCO, one more VCA, and maybe a mixer would
be fun and not alter the experience too much. We will see...
Before calibrating the VCO I put a short video together to show off the unique sound this synth has: Youtube video
---
Things to do:
Keybed service and cleaning
Tuning the keyboard (every single key has a trimpot). I might need to replace some resistors since I can't tune
it far enough with the trimpot on some keys.
Sort out the keyboard tuning knob so it can transpose the keyboard +/- 1 octave.
Clean or replace the jacks on the attenuator, they ground the signal now
The S/H circuit in the keyboard does not hold pitch when warmed up
---
Modules in this system
2720-7 Power supply. +/-9 Volt and +18 Volt. Mine has been modified with a power indicator lamp, larger
filter capacitors, and a 3,5 mm jack that connects to a 6,35 mm jack on the back (neat).
2720-2A VCO. Three Hz/V inputs generating saw, triangle, and square. Based on a 2N4871 UJT circuit (saw core).
2720-14 Sine converter and pulse width modulator. Uses the triangle wave (someone has soldered a wire behind
the panel on mine, eliminating the need for a patch cord. Fun fact - they saved money on skipping ONE diode in the
sine converter since it relies on the non-perfect triangle of the 2A VCO!
2720-1 VCA. Some people call it the worlds worst VCA. I really do not see why. Sure, it leaks if there is
nothing connected to the CV inputs - but why would you have something running to the VCA if you are not
controlling it? I have not been having problems with control voltage feed-through either. I like the two inputs
with one of them being a 2x gain.
2720-4 Envelope generator. Probably my least favourite module. The shortest release time is only around
one second. The extend mode only affects attack (which is kind of unnoticeable without it). Oh well!
2720-5 Control oscillator and noise source. A sine only LFO capable of 1~25 Hz unipolar output. Yeah, not
very powerful, but it gets most basic jobs done.
2720-3L Low pass filter. Can you spell basic? How about a 0-12 db/oct non-resonant VCF with a fixed cutoff
point of 150 Hz? Control voltage affects the amount of attenuation (using diodes for voltage controlled resistors,
this filter is really something when it comes to cost-cutting). Sounds like a tone control on a radio. Somewhat useful.
2720-3B Band pass filter. This is a more conventional design from the time using a twin-T filter in the feedback
loop of a transistor amplifier. It gives you most of the typical synth-ish sounds you need. Only interesting (and
effective) on higher Q settings. Sounds nice overdriven.
2720-12 Inverter/buffer. Just a LM748 op amp configured as an inverting amplifier with 1x or 10x gain (for audio)
and 1x gain for CV (with adjustable offset). One of my favourite modules due to it's simplicity and usability.
I mostly use it to invert CV and as an overdrive.
2720-11 Envelope follower/trigger. The module I use the least, but it is cool to have. Feed it audio and it
spits out a control voltage proportional to the volume (sorry, no pitch detection à la MS-20) and gate/trig.
Fun to use on drums - control the synth voice and maybe a filter for the drums themselves. Responds well to
guitar as well, so you can use your synth as a auto-wah pedal.
This system was sold as the 2720/R which was the premium kit. The basic 2720/A lacked the Sine/PWM converter,
inverter/buffer, and envelope follower modules. Selling for $269 in 1978 ($1065 in 2020) means that is was not
that cheap even if many other options were costlier.
---
Documentation
Every module was supplied with a manual covering assembly, testing, usage, and a short design analysis.
You can find them and much more Paia stuff over on the forum Paia Talk.
If you are unable to find the files let me know as I have copies downloaded.
---
I do not recommend this synth for someone wanting cool modular sounds or lust for a fat 1970's analog sound.
The Paia 2720 is it's own thing, and not without flaws. Some electronics skills are nice to have, since it is a
simple unit to service and was built by amateurs 40-50 years ago. I do recommend it if you like quirky synths and
have your expectations set right. Sometimes it reminds me of a Korg 700 in it's sound. Sometimes it just sounds like
a thin toy. It's all good in my book!
---
Updated 2020-04-28